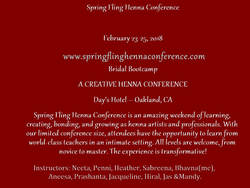 Come immerse yourself in The Henna Society Nov 2017
I will be teaching Bridal layout there.
To register go to http://thehennasociety.com/ths/register.php
The Henna Society Annual Conference
Saturday, November 4, 2017 - Sunday, November 5, 2017
Windsor Locks, Connecticut









The Henna Society Annual Conference
Saturday, November 4, 2017 - Sunday, November 5, 2017
Windsor Locks, ConnecticutThe Henna Society Annual Conference
Saturday, November 4, 2017 - Sunday, November 5, 2017
Windsor Locks, Connecticut
---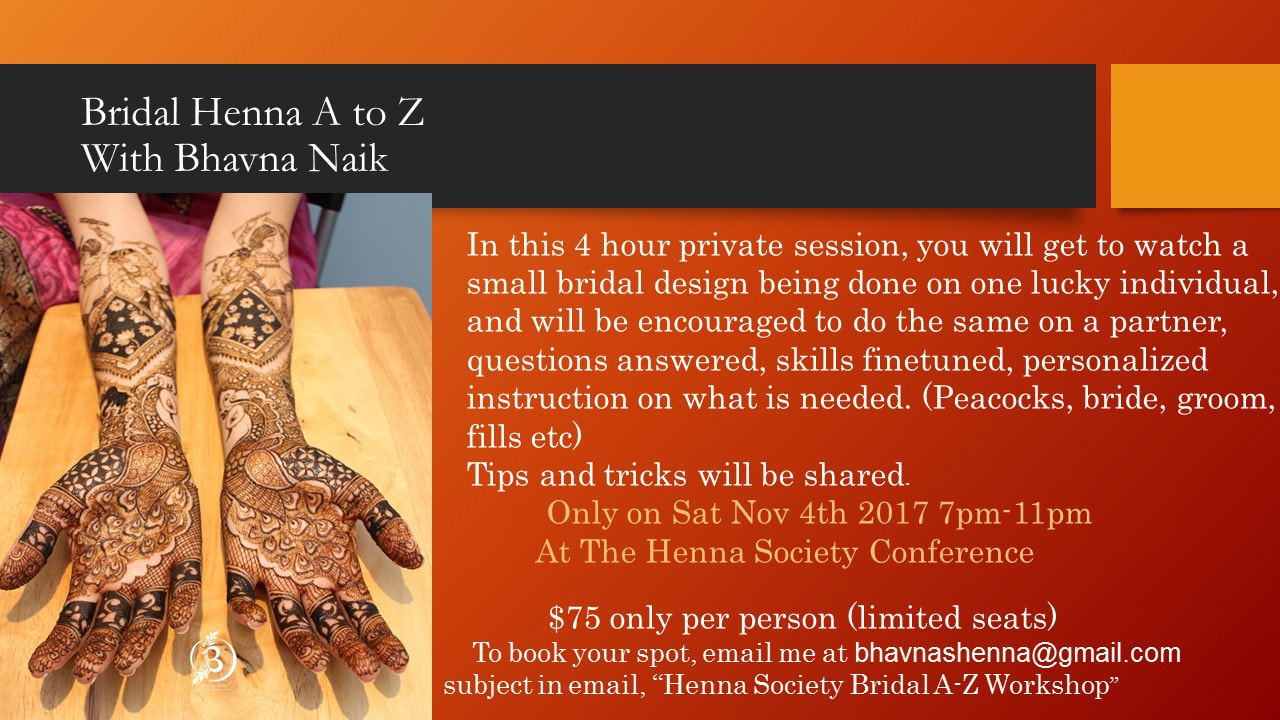 H E N N A W O R K S H O P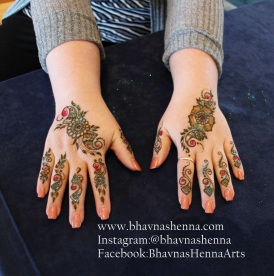 Customize your workshop:
Email me at
bhavnashenna@gmail.com
with your needs and I will customize a workshop just for you.
Currently 3 options popular:
Workshop options:
1) 10 week class 2 hours each class.
2) 10 week class 4 hours each class
3) Condensed 2 1/2 day 20 hours
Review from a student of the 2 1/2 Day Condensed Private Workshop:
"I wanted to say thank you for the time I spent with you learning about Henna. The history, how to mix, how to roll cones, how to apply and guidelines on design and flow of design just to name a few items. This was all totally new for me and I wanted to learn as much as I could.
The practice hand (I photocopied a lot and the grids too) is great tool as I only have so much skin to practice on or friends and family I can use!
I refer to your book often as it has a wealth of information. I have tabs for places I refer to quite a bit. It's easy to read and the step by step guidelines are wonderful. I especially love having the pictures to refer to. I had to let you know when I was so excited when I finally made the perfect paste! The tips in the book have made it easier and some have just become a part of what I do when I work with henna.
But I think most of all Bhavna, is that anytime I have a question I can reach out to you and that I am most appreciative of. I am also grateful that your family welcomed me with open arms and it was a truly wonderful experience. One that I have shared with friends and family. I was truly blessed to have that opportunity. This was the best money for a learning experience I have ever spent! And I take a lot of classes.
I have found that I absolutely LOVE doing henna and having you as a one on one teacher was the reason why."
Cordially,
Rita Garza
Review from a 10 Week Private Workshop Student -40 hours of instruction
It was really a great pleasure that I learned henna from you.
You are a great teacher and great artist.
Learned very nice professional skills and henna patterns from you in a very organized way.
Thanks for giving me such a great opportunities to work with you after the sessions. And really appreciate you for helping me even after the sessions. I learned all business skills, techniques needed for the henna artist in USA.
Thanks for sharing such a great knowledge and your time with me.
Thanks
Poonam
​
---
Review from a student who came to learn henna as art therapy.
"I took the henna workshop with Bhavna in 2015 and am so glad that I did. I was a beginner with henna and Bhavna was extremely patient with me as she taught me to make and fill cones during the first couple of classes. She also helped me to practice simple henna designs on paper patiently correcting me if I held the cone incorrectly or if my design was not very smooth. She also provided me with all the materials I needed to practice what I was learning at home. Bhavna is super friendly, extremely caring and goes out of her way to help her students be successful. I am so glad that I took this class and plan to continue taking classes with Bhavna"
Thank you Bhavna for everything- its been a pleasure learning with you and I know I keep saying it and for a long time life happened, but I will be back to learning again soon =)
Anandi Bhusry