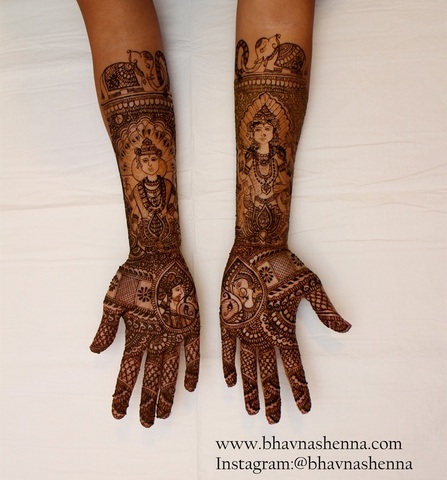 Shaina said,
"Bhavna is truly a master of her craft and an artist. She spends time trying new types of henna design on herself in her incredibly limited free time -just knowing that you can can see that she has a real passion. She has researched the material in henna and created her own formulation (all organic!) which I really appreciated.

During the process, Bhavna sat down with myself and my grandmother, mother and fiance to talk through what would be put on my arms and legs on one of the most important days of our lives. Walking in I knew I wanted figures on my arms (incredibly difficult), bride/groom, peacocks, and elephants! Bhavna did not shy away from all of the elements and proposed how to make the figurines stand out and meld with each bit. She even asked questions about our history and professions to truly make the henna unique.

On the day of she arrived promptly, had her own stand and heater - and most importantly, she was armed with great conversation. She was a true champ working tirelessly through the many ladies at the party and even accommodated requests that were over and above what was required. Our experience at the mehendi, with many thanks to Bhavna, was a calming and fun experience and a great kick off to the wedding festivities. Bhavna is truly the best in the DMV area (and beyond I can imagine).

Bottom Line - If you are thinking about getting henna for your wedding day (or really any other occasion) book Bhavna!"


Bhavna's Henna & Arts responded with the following comments:
Thank you Shaina, I love being challenged and your request of Gods that I had never drawn, pushed me even further. Thank you for appreciating my work and leaving such a glowing review. Your family is awesome.