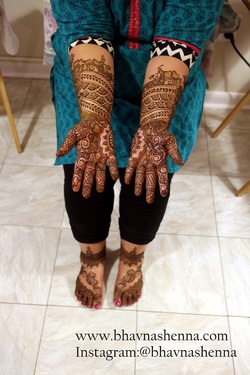 Tavishi said,
First, Bhavna is absolutely the best henna artist in the DC area. She has an exquisite eye for design and unmatched drawing skills. She is truly passionate about her work – from the henna she uses to the little ghee balms she sends home with her clients, there is so much attention to detail. We are two brides in a bicultural marriage. She spent hours with us, trying to understand what we wanted in each of our designs and sent us completed designs in advance of our mehendi without any additional charges for the consultation or design sketch. Yep, not your mama's mehendiwaali! Bhavna is the consummate professional – she arrives on time, brings all the necessary equipment and chairs and lights and also ensures all the guests who want henna done are able to get a lovely design within the contracted time. My only tip to would-be-brides is to ensure you give her the time she needs to execute the design of your dreams. Exquisite bridal henna takes time and patience so please plan accordingly. I promise you won't be disappointed!
Second, Bhavna has been affectionately dubbed "fairy Godmother" in our household for all of the ways in which she went above and beyond her call of duty to help us plan and execute our wedding. It is hard enough planning an Indian wedding and then doing it in a new city, thousands of miles away from family and known vendors (did I mention the short time-frame) is terrifying! Enter, Bhavna. Bhavna helped make our dream wedding a reality. It is no exaggeration to say that our wedding wouldn't have been half as fabulous without her. She helped put us in touch with the majority of our vendors, negotiated with them on our behalf to get us affordable contracts, advised us on every aspect of the wedding we requested, even leading us by hand to restaurants and stores where she thought we would find great food, clothes and accessories. We are so grateful to have Bhavna as our wedding henna artist and as our dear friend.


Bhavna's Henna & Arts responded with the following comments:
Thank you Tavishi for writing such a thoughtful review. I truly enjoyed helping you coordinate your wedding. And you and Crystal are a joy to work with.