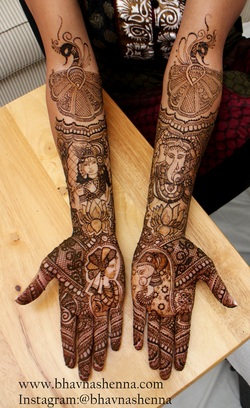 Nisha said...
Bhavna goes above and beyond. Words cannot even describe the experience I had with her. She is the definition of a artist and takes each clients likes/dislikes into consideration. Not only is she great at what she does, but she is also personable. She will assure you are comfortable at all times and keeps an open book for communication. I was beyond pleased with my experience. I cannot count how many people complimented me on my henna. I will definitely be going to Bhavna if there is a need for henna in the future. There is no reason anyone should not book with Bhavna, she's awesome!

Bhavna's Henna & Arts responded with the following comments:
Thank you Nisha, for giving me the opportunity to do your henna with Gods in it, I am so glad that you received multiple compliments. Thank you for taking the time to write a thoughtful review. And May you be blessed always.