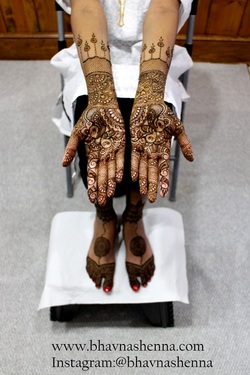 Kavya said,
Bhavna is a true artist. My bridal henna was stunning as was the henna she did for my bridesmaids. She also did henna for guests at our Sangeet and her work is not only intricate and beautiful, but she is quick, friendly, and fun to chat with. She went above and beyond over my wedding weekend. I was sick and she brought me cough drops and made me a healing tea. Not only is she talented, she is kind and funny - a wonderful person to work with! She made the process very interactive, allowing me input on the designs we chose for my hands and feet. She also helped plan some fun bridal games to play with the henna. Loved my henna and loved working with Bhavna.


Bhavna's Henna & Arts responded with the following comments:
Thank you Kavya for taking the time to write a thoughtful review. I truly wanted you to be better by the day of your wedding. I just did what anyone would do to help you. I am so glad the ayurveda drops and tea helped you some.