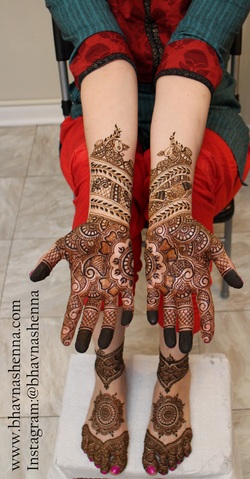 Crys said,
I knew when my fiancé and I decided to plan the traditional Indian wedding of her dreams that I was signing up for a crash course on Hindu wedding rituals. I spent the majority of the lead up to the wedding playing catchup to a culture that was completely foreign to me. To say I was apprehensive about designing my mehendi is definitely an understatement. Up until my first meeting with Bhavna, everything I knew about henna was gleaned from Bollywood movies where these gorgeous, intricate designs appear magically on the hands of brides around their wedding. During that first meeting Bhavna very patiently and knowledgeably explained the many styles of henna and the meaning behind dozens of different intricate elements. She skillfully directed the conversation, paying close attention to our individual styles. Despite my complete lack of knowledge and poor direction, the resulting design was elaborate, beautiful and genuinely reflected my personality and relationship with my fiancé. I have trouble sitting still for 5 minutes so the idea of not moving for hours was pretty terrifying. However, Bhavna made the henna experience so much fun that I was a little sad when she was finished. Bhavna is a gifted conversationalist who really tries to connect with each of her clients. I wish more vendors were like Bhavna, extremely skilled and passionate about her craft AND at a reasonable price!


Bhavna's Henna & Arts responded with the following comments:
Thank you Crys for such a thoughtful review.I truly enjoy connecting with my brides.