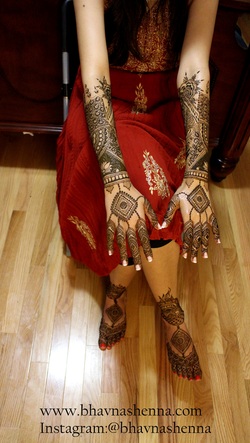 Ashita said...
Bhavna is not only an amazing mehendi artist but an awesome friend who keeps you entertained for the 7 hours of your bridal mehendi sitting. She's an absolute delight and a total genius when it comes to designs and is willing to work with you on both traditoinal and custom designs. Definitely take advantage of the pre-event consultation to sketch out your designs before hand for minimal suprises on the day of. She also puts a ton of effort into her mehendi mix and henna balm which leave your mehendi protected and your skin soft for days after. I'm so glad we were able to work with her - she won over my entire family and will definitely be reaching out for future events.

Bhavna's Henna & Arts responded with the following comments:
Thank you Ashita, it was my pleasure to do your henna. Connecting with your family was awesome, may you have a blessed married life.