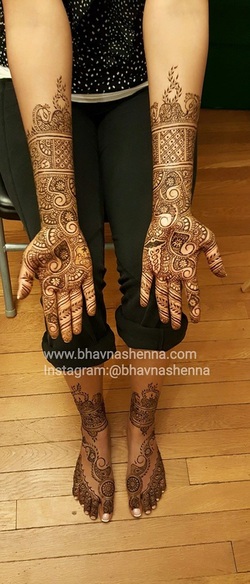 Asha said,
Bhavna was beyond wonderful and I can honestly say that her services set the mood for the entire weekend of celebrations for my family. Firstly, she was so accommodating when I first contacted her to do my Bridal Henna - I did it so late! I wasn't 100% sure that I wanted Henna done for my Indian-American fusion wedding but I'm so glad I went for it! She squeezed me in for a 4 hour session even though she had another event that same day. She worked so diligently even though she was exhausted and the final product was breathtaking! She added personal touches (symbols representing our professions and the Grooms name!) and really made me feel special. Everyone was in awe about my henna. Then she returned a few days later to do henna on the wedding party. She was such a hit, all of my Aunties wanted to join in on the fun (even some Uncles!)! That night was such a special night for my family and set the mood for the entire weekend. People were in love with their henna designs, especially since she created each one specifically unique for everyone. And she's so sweet during all of the craziness also!! To wrap up, Bhavna was so incredible, I'm so glad I was able to have her be a part of our wedding celebrations and will cherish those memories forever!


Bhavna's Henna & Arts responded with the following comments:
Thank you Asha for taking the time to write a wonderful review. It was my pleasure to meet and connect with your family. I will cherish these memories too.