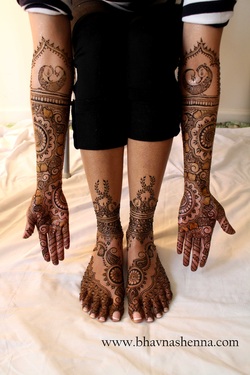 "One of my best wedding "purchases"
Bhavna was amazing. She did my mehndi for my wedding on 3/21 and I couldn't have been happier with the results. While it may seem like quite a time and cost commitment it is totally worth it for the following reasons:
1. You are forced to sit still and remain calm for a few hours (7 in my case a few days before your wedding). I was incredibly nervous about that idea in the days leading up to it because I knew I still had so much to do, but I'm so glad I did. Bhavna provided great company while working hard on me and it was nice to just sit and not run around like I had been for the weeks and months prior. Also, it really made it feel like I was about to get married, it got me in the right mindset.
2. I had so much fun showing off her work at my wedding and getting people to look for my husbands name.
3. After all that build up of a wedding, it's weird when it's all over. At least if you have your bridal henna done it still feels like a gradual transition into normal life since it takes some time to fully fade. Not to mention, people will notice and will congratulate you on your wedding!
Added bonus: If you spend some time in the sun while the henna is still dark you end up with tan lines. It's been nearly a month since my wedding and I can still see the design from my tan which I think is pretty fun!
Those are the reasons you should get it done, but the reason you should go with Bhavna is because of the amount of effort and skill she brings to the table. From the consultation I was impressed with how much detail and thought goes into it beforehand and how much she does to make it personal. The design fit my style/personality so well and that's only because she pulled details out of me. I did not come into the appointment with any ideas of what I wanted, she was able to come up with that with her pointed questions and guidance.
In summary, if you plan on getting bridal mehndi done (or really any type of mehndi done), go with Bhavna, you won't regret it."
---Mala Mistry/Kline