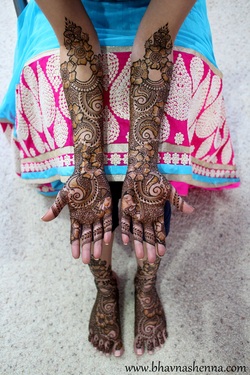 I am not sure where to start. I got henna from Bhavna so many times before, But to get my bridal henna done by Bhavna was my dream and God made that dream come true. She is a super awesome artist, way to sincere, dedicated, hardworking, particular, details oriented, artistic, creative, innovative, committed, organized, professional and I can go on and on . I also know Bhavna as a fantastic person who is so caring, loving, and is concerned, helps and supports everyone. As I said with all my other dreams, my big dream was to get my bridal henna done by Bhavna which came true. My Bridal henna was mixture of modern and traditional style and she justified it very well. Everyone loved her henna. I wish her very good luck for the coming future. I have seen her hard work in the past years. I can't wait to see her progress more and more.
By Urvija Prajapati Mittal

Thank you Urvija, it was my pleasure to do your henna. I am so glad that I could capture the essence of your personality.